Ethereum price movement is currently under the bearish influence. The coin is exhibiting a substantial change in the momentum as from the last couple of days, and ETH coin has been at an impressive pace. It looks like the selling pressure is taking over the market, and the coming hours might remain regression. The currency is counted among the top trending coins of the market. The same is currently reflecting a declining trend. The intraday traders might bear losses during the intraday trading.
ETH Price Analysis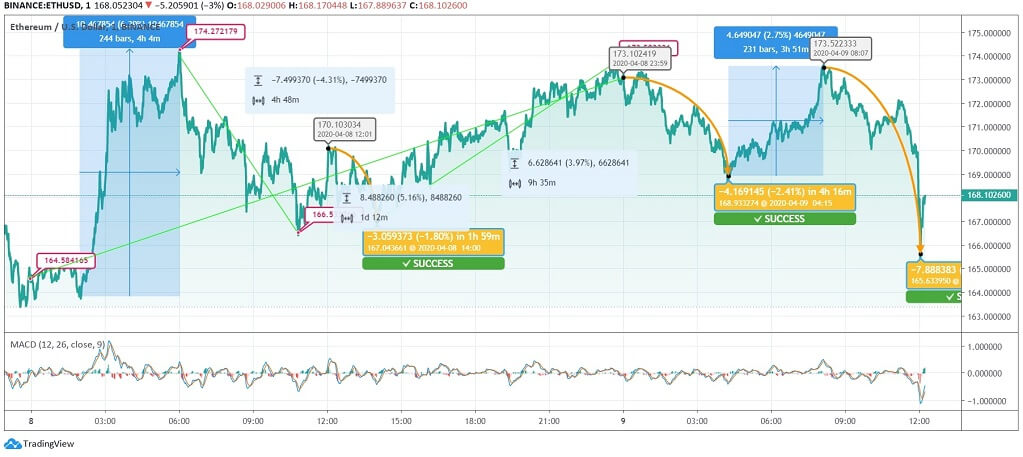 Yesterday, Ethereum started dealing at $164, and then the price hovered at the same level for almost 30 mins. Later, it exhibited tremendous improvement that took the ETH price to $174 by a 6.30% hike. All this happened it the first 4 hours of the day. The currency further felt a pullback pressure that brought the price to $166 by 4.31%, but then it improved moderately in the later hours to $170, but again takes a plunge to $167. After that, the Ethereum price starts moderate yet sustainable improvement that takes the price counter to $174. The day ended at $173, with an intraday improvement of 5.16%.
Today, ETH coin started the day with a plunge. The price counters moved from $173 to $168 by 2.41%. Further, the price escalated to $173 by 2.75% hike, but later, Ethereum price took a tremendous plunge to $165. However, at the time of writing this analysis, the coin has improved the momentum and the price touched $168.